Ranking the NFL's top 10 offensive players required an exercise similar to last week's defensive players project: Melding a number of individual rankings into one coherent list. In the end, it left us with two NFC North representatives despite my efforts to make it three.
Minnesota Vikings tailback Adrian Peterson finished tied with Tennessee Titans tailback Chris Johnson for the No. 1 spot. Each received 70 points in our voting formula. Detroit Lions receiver Calvin Johnson finished No. 5, and Green Bay Packers receiver Greg Jennings garnered only one a vote (from me) on the way to a No. 18 finish.
A few notes from my perspective:
Some of you will note that Chris Johnson finished ahead of Peterson on the running backs ballot earlier this offseason (by one point). Remember, the criteria for the best running back and the best player aren't necessarily the same. Running ability is foremost in both, but receiving, blocking and other jobs play a larger role in the latter. Also, Johnson and Peterson were competing against players at other positions. Houston Texans receiver Andre Johnson, for example, received three No. 1 votes.
On the issue of Andre Johnson, I faced a quandary of consistency vs. accuracy. On our receivers ballot, I ranked Johnson No. 6. That was too low. So as you'll notice, I made a change for this ballot. I voted Johnson No. 4 overall, my second receiver behind the Arizona Cardinals' Larry Fitzgerald. Consider it a mea culpa if you want, but that should explain the inconsistency I'm sure you would have noticed and pointed out on your own.
My decision on Andre Johnson forced Calvin Johnson down the list. Calvin was now my No. 4 receiver, and I couldn't find room for a fourth receiver any higher than No. 8. You might argue that he deserved to be higher than Roddy White of the Atlanta Falcons, who I had at No. 7, but White's production has been far superior over the past four years. Over that stretch, White has 371 receptions. Johnson has 270.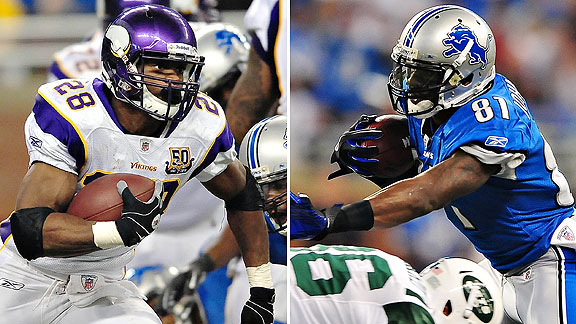 I didn't have much hope that Jennings would crack the top 10, and my vote was totally biased. But the sentiment wasn't from a rooting interest. It was based on experience. I had the advantage of seeing Jennings play far more often in recent years than any of my fellow voters. And if I was given 10 slots to build an offensive team for 2011, I know I would get high production and character from Jennings.
For those wondering, yes, there were two offensive linemen on my ballot, left tackles Joe Thomas (Cleveland Browns) and Jake Long (Miami Dolphins). Offensive linemen, specifically left tackles, will be the subject of a future ballot. But suffice it to say, I value offensive linemen enough to put arguably the best two in the league on a top-10 ballot.