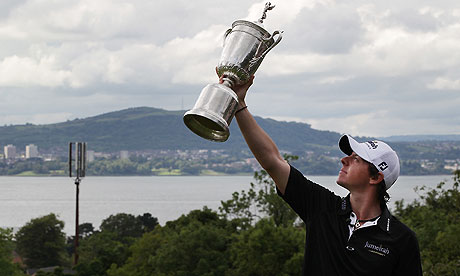 In search of background on "this McIlroy kid" – as many still know him in America – media from across the globe have been besieging Holywood Golf Club near Belfast, where Paul Gray, the general manager, says from a seat in the bar: "He used to beat around here in the evenings if his mum and dad were up for a meal. He had a little plastic club when he was a toddler and he would knock balls off that wall over there."
The last landmark you pass on the road to Holywood is the George Best city airport, a Northern Irish monument to genius. Past the UVF flags of east Belfast and the cranes of the Harland and Wolff shipyard, the route leads through quiet rainy streets to a modest suburban club where boys are striking balls down a range with noticeably raised enthusiasm.
Holywood is the nurturing ground of the 22-year-old US Open champion. This week Rory McIlroy will endeavour to double his collection of golf's major titles in the Open Championship at Royal St George's in Kent. In a BBC Northern Ireland documentary this week his country saw him cross a threshold. The morning after his stunning win at Congressional he emerged into fame's white light: police escorts to the airport, hug-happy sponsors and a kind of besotted glee on the faces of all who saw him.
Captured, in all its splendid and terrifying detail, was the moment McIlroy's life became a movie. "You are so gracious," gushed a hotel employee as she waved him off to a sponsor's gig in Cape Cod. The McIlroy cavalcade shifted with presidential intent. State troopers cleared a path to a private jet. Two days later, when he finally reached his £2.2m home near Holywood, the new champion told his family: "There were paparazzi at the airport – like, proper."
Gray, 37, has watched the whole McIlroy romance bloom. The golf pro at Holywood for 11 years, he is now the manager, running the club shop and overseeing the junior programme. In his own career he says he "played around Ireland, in the final stages of Open qualifying, once, won a few pro-ams then focused more on teaching. I was never good enough to get to European Tour standard." He took on McIlroy at Holywood when the wunderkind was 15. Did he beat the upstart? "Of course I didn't," he says.
"Rory was seven when he started here. The age to join was always 12. Because he was so good Michael Bannon, who was the pro here at the time, spoke to the junior convenor and said: 'This kid's brilliant. Because he's so good we need to have him as a member of the club. He's going to be great.' His whole family were members. The club then changed their rules, basically. We have about 180 kids here now and had to close it at that point because it becomes unmanageable."
On the day of our visit McIlroy is at Sandwich, negotiating a golf course for the first time since Congressional, where he won by eight strokes, 12 days after Tiger Woods had said he would miss a US Open for the first time since 1994. McIlroy's triumph evoked Woods winning the 1997 Masters by 12 strokes at 21 and was billed as "Rory's redemption" after his collapse at Augusta in April.
"Some people may have wondered why I chose to go straight from one major to another without anything in between and the answer is simple," he said at Sandwich. "Because of what happened at Congressional and the way it became such a big deal, I wanted to get everything out of the way and sorted so that when I started playing again I could just concentrate on the golf."
"What happened" is that McIlroy became a global sensation, almost as much as for his winning nature as his talent. American writers practically cuddled him off the course. "It's nice to be nice. And it doesn't cost you a penny," one golf correspondent recalled Rory's father, Gerry, saying. The counterpoint with Woods was obvious.
ESPN's Rick Reilly wrote: "McIlroy is not a member of [commissioner Tim] Finchem's PGA Tour. He's played in the US only five times this year. It's possible America won't see him but twice more this season. Without Tiger, the Tour is already dying for star power. This only makes it worse. The top four players in the world are European. And now golf's abiding dude lives near Belfast. Finchem better get the archaic 15-tournament-minimum-for-membership rule slashed if he wants McIlroy to be a member. And, unless he has had his cerebral cortex removed, he wants McIlroy to be a member."
Golf's abiding dude had nailed the Augusta demon at the first opportunity. Four shots clear after three rounds at the Masters, he imploded from the 10th hole. "Maybe I just wanted it a bit too badly," he told the BBC. "I was flustered, my mind started to race a bit." The standing ovation that accompanied him off the 18th green was both a kindness and an embarrassment. Consultations with Jack Nicklaus, a perspective-restoring trip to Haiti as a Unicef ambassador and some straight, cool reflection at his impressive home had sorted his mind out by the time he reached Congressional, where he played like the ultimate baby‑faced assassin.
"He doesn't act like the whole world's his spittoon," another American writer said, referencing Woods again. At Holywood it's not difficult to see why egocentricity and coldness are not McIlroy traits. "People from Northern Ireland don't tolerate that in general," Gray says. "People from here don't respect that at all.
"He's doing a thing in August for us. The Rory McIlroy Classic is to raise money for the junior club. We have an open day and he's coming to present the prizes. After he won at Congressional I was thinking: 'He's definitely not going to be here now.' But Gerry helps me run it and he said to Rory: 'I suppose you're big-time now and you're not going to be coming to present my prizes?' Rory said: 'No, no, I'll be there.'"
In the clubhouse where we sit, 150 locals gather to cheer him through the final rounds of majors, "if he's in contention", Gray emphasises. The bar shuts at the normal time, regardless of any time difference. A sense of order and proportion prevails. The mind keeps trying to picture a mop-haired McIlroy skipping about with his plastic club.
"When he was eight he looked like a scratch handicap golfer. He didn't play off that mark, obviously, but he had that look: the swing, the pitch, the way he putted. He had a proper little game," Gray says. McIlroy, who first held a club at 18 months, won a world championship for nine- to 10-year-olds in Miami. "Then when he got to 11, 12, he became a low handicapper, and from 12 to 15 started to beat people who were five or six years older than him. That's the age when he started to look extra special.
"He copied his dad, who was a scratch golfer. Gerry had a nice swing. He used to bring Rory up in the buggy before he could walk. Rory would sit and watch. When Rory could get about, Gerry had a little club for him and he used to knock about the tee. Kids are great copiers. A kid of that age you should never give any instruction to. You should show them a good swing and let them watch it. They'll copy it.
"He was always winning things, bringing silver home. Everyone was really proud of him as an amateur [he was world champion at 17]. He was always breaking all sorts of records. Rory played all sorts of other sports, too, which is important, because if you don't do that you don't have all the physical skills to be a great golfer. You'd be very one-dimensional and wouldn't have the athleticism."
Gray looks a little frazzled from the media invasion: "USA Today, radio stuff from Australia – all over the place. Sports Illustrated. ESPN. We were doing about 1,300 hits on the website and it went up to 28,000 on the Monday after he won the US Open."
A 10-minute walk away in this mostly middle-class community of 12,000 souls overlooking Belfast Lough is Sullivan upper school, where McIlroy paid a visit after his victory at Congressional. Its motto is Lámh Foisdineach An Uachtar or "With the gentle hand foremost", a spookily appropriate adage for a golfer. Also close is the home where he revolutionised preparatory routines by building his own mini-course, much as the great Vincent O'Brien constructed a replica of Tattenham Corner for his Derby contenders further south in Co Kildare.
McIlroy's home laboratory has four greens, four tee boxes, three types of sand and different roughs and types of grass to replicate tournament conditions. Gray says: "At the time you could hear people saying: 'What's he doing that for? He's mad.' But it's been a fantastic move. If he was home for three weeks before the Open and he wanted to practise, there's nowhere of that standard within an hour and a half's drive of here. Secondly, if he did go to that place he'd be mobbed by people wanting his autograph.
"He has the privacy there, he's left alone, it gives him great focus and he can prepare for whatever's coming up. It's been a brilliant move. I was up there a few months ago and they were getting the sand ready for the bunkers, different types for the US Open. Each bunker has different sand from around the world. It's all details."
"I see myself always being here, always living here," McIlroy told the ubiquitous but well-treated BBC camera crew. So no 12-bedroomed, sun-toasted Orlando mansion, then. In his re-emergence in Kent this coming week, he enters a familiar phase in which everyone wants a piece of him, colleagues view him in a new expectant light and the camera's eye bears down with a special scrutiny on every shot. No longer the prodigy, he is instantly the icon of golf, the new George Best in a land with a preternatural gift for bequeathing virtuosity.
"If you look how many golfers have won the Open and never won anything else in their life there are plenty. It's been the ruination of them," Gray says. "I hope it doesn't happen to Rory. I really don't see it."
Outside a group of lads who are the age McIlroy was when the club rules were rewritten to allow him to join are taking lessons under a bruised, rain-swollen sky. "Before Rory," Gray says, "the best we had here was a PGA pro like me or an Irish international. They would have been looked up to. The kids here are buzzing. It sets the bar for them so much higher. Their dreams become bigger."